Design trends are constantly evolving in all walks of life. We see this displayed in industries like fashion, art, music, and of course, architecture.
Landscape architecture is known as the design and management of natural, outdoor spaces. This industry is no exception to the ever-evolving design trends in our culture. In recent years, a growing trend to produce more natural-looking spaces has taken hold across North America and the world. People everywhere want to create more enriching landscapes that better capture the natural beauty of their surroundings. There are many ways this can be done. From foliage to lighting to natural resources, landscape architecture incorporates many different design elements.
One particular material that is playing a major part in recent landscape architecture is hardwood. Natural hardwoods are durable, sustainable, and great at creating an authentic natural aesthetic.
Want to learn more about the best ways to incorporate hardwoods into your landscape architecture? Keep reading for tips and advice about using hardwoods to enhance your natural spaces.
Using Hardwoods in Landscape Design
When we talk about landscape design for homes, we are largely referring to outdoor spaces and features. Recent years have seen an emergence of more expansive outdoor home spaces. Decks, patios, cladding and more are becoming central aspects of many home and commercial designs. In many cases, these features are centered around tropical hardwoods.
Hardwoods play a pivotal role in landscape design because they create a look that is inherently natural. This is an important factor to landscape architects, particularly those seeking a biophilic design. Biophilic design is a design that attempts to facilitate a strong connection to nature through natural materials, shapes, patterns, and lighting.
Not everyone who seeks a "natural" landscape design is striving for a biophilic design. But this emerging trend demonstrates the new emphasis being placed on "natural" elements today. With that in mind, there are many ways to effectively utilize hardwoods in landscaping design.
Hardwood Decking
In landscaping design, decks and patios are perhaps the most common use for hardwoods. These outdoor gathering places are pivotal to many homes. They're utilized as a sort of second outdoor living room for entertaining. As the role and popularity of large outdoor decks grow, so does the use of hardwood.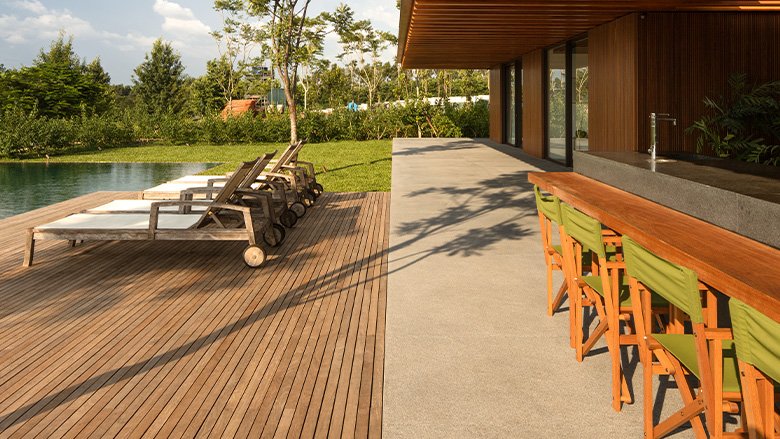 Hardwoods fit remarkably well in current landscape design trends for both aesthetic and practical reasons. Aesthetically, hardwood is one of the best materials for creating the "natural" look that is desired by so many people today. High-quality hardwoods like Ipe and Cumaru have rich colors and patterns and require little maintenance to preserve their appearance.
On top of having a natural look, these hardwoods are also incredibly strong and durable. Ipe wood, for instance, has a lifespan of up to 75 years and requires minimal maintenance. It is both water and termite-resistant and is sturdier than nearly every other type of commercial lumber. This makes it an ideal material for projects like boardwalks, or commercial decking and cladding.
Hardwood Siding
One way to make a strong impression in your landscape architecture design is with hardwood siding or cladding. Using tropical hardwoods for the siding of a home or building is both efficient and aesthetically pleasing. Similar to hardwood decking, hardwood siding is highly reliable thanks to the strength and durability of the lumber itself. Additionally, many hardwoods also act as natural insulators, making them an energy-efficient choice.
In terms of design, hardwood siding is one of the most impressive features you can add to your project. Hardwoods have both aesthetic and functional benefits in landscape architecture. An exterior frame lined with hardwood creates an unbeatable natural look. Combined with other natural features, like stones, foliage, or ponds, hardwood siding can act as the backbone of a biophilic landscape design.
Hardwood Fencing
A hardwood fence enhances the landscape design by surrounding the entire area with a sturdy, natural boundary. Hardwood fencing is extremely durable, as mentioned above. It can also be highly durable, with woods like Ipe providing more strength than common fence materials like pine and cedar.
Hardwood Accents
Hardwood does not need to be the central focus of every landscape design. In some cases, it can be just as effective as an accent. In garden design, there are many opportunities to add hardwood accents. A hardwood garden box, for instance, can be a subtle way to enhance a space that is already naturally stunning. Water-resistant hardwoods are particularly well suited for this role.
Other smaller features like koi ponds can also be given a hardwood accent for a great visual effect. When planning a garden design, any unique feature can be enhanced with a hardwood accent. This can also be a great way to use any leftover hardwood from larger projects like a deck or patio.
Advantages of Hardwood vs. Softwood in Landscaping Design
At this point, you may be thinking that any type of lumber can be successfully used in landscaping design. So, why hardwoods in particular?
It is certainly true that a wide variety of wood types can be used to great effect in landscape architecture design. Softwoods like cedar, pine, and redwood can be put to great use, just like Ipe, Cumaru, or Garapa. The trick is to know when to use hardwoods, and why.
The key differences between hardwood and softwood, generally speaking, are their hardness, weight, and appearance. While all lumber is different, hardwoods tend to be harder than softwoods. This makes them better suited for large-scale outdoor projects, as they will last significantly longer. However, that hardness can also make some hardwoods more difficult to work with. Additionally, the density of hardwoods also makes them heavier, which can be either a challenge or a blessing.
Lastly, many hardwoods have a more visually prominent wood grain than softwoods. This is a big advantage if you are seeking a more natural aesthetic in your landscape design. However, if you plan to paint over your wood anyway, it may make more sense to use softwood.
Tropical Hardwoods and Sustainability
Another advantage to using hardwoods in your landscape design is sustainability. There is a common misconception that tropical hardwoods are not environmentally friendly. But, when harvested responsibly, tropical hardwoods are among the most sustainable and eco-friendly resources available. At Black Label, sustainability is our top priority. All Black Label lumber is carefully sourced from well-managed forests, in addition to being selected for exceptional quality.